Yesterday was kind of like a very, very, very minorly early Christmas, as I got both the Voigtlander 25mm f/0.95 lens (see the "one candle" test in the AF100 section) but also the Lumix 100-300mm lens. I initially wasn't going to bother with the long lens, but seeing how much use we got out of "The Howitzer" (the Nikon 50-300mm) on "
A Verse Before Dying
", I wanted something similar, and seeing as the Lumix version offers OIS, and I think OIS is just simply mandatory in long lenses especially in a handheld camera like the GH2... well, I picked up the 100-300.
So what better way to test it out, than by shooting the moon?
So here's the Lumix 100-300, at 300mm, on the GH2, using Extended TeleConversion mode in 720p mode, to get the most magnified shot possible. If my math is right, this is like using a 2,340 mm lens on a 35mm stills camera. I found that it's almost an absolutely perfect match for the size of the moon; it pretty much perfectly filled the frame with only a pixel or two to spare, top to bottom.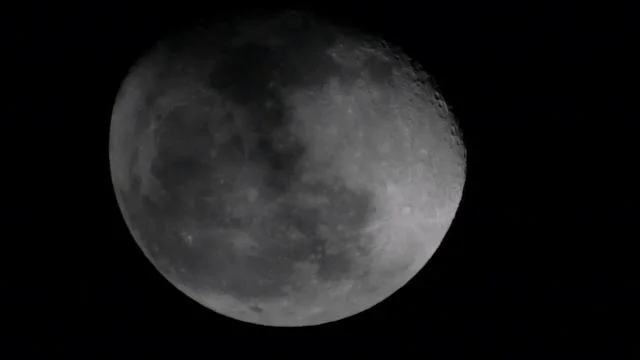 Now will someone please, please stop me from buying more glass?