UPDATE: Scroll down for video demonstration of in-camera audio, and recommended ways to get audio directly into the camera!
If I may be so bold, I decided to start this thread as an official "Canon DSLR Audio Bible", in the hopes that it will clear up a lot of confusion and be a useful source of information and starting point for those who are new to this.
As you already know, Canon's latest crop of DSLR cameras can produce some great looking imagery for making movies, however have limitations that must be understood if you want to get good results. One glaring problem right out of box for most of Canon's popular DSLRs (including the 5D, 7D and T2i/550D) is audio.
"Why, what's wrong with the camera's audio?"
Two things:
AGC (automatic gain control) and weak pre-amps.
If you try to record someone speaking, you'll notice the AGC problem right away. That is, the camera will automatically adjust the audio levels (analog and digital gain) to find a good volume by listening to what is coming in off the mic. That means that when someone starts speaking, it will adjust to the volume of their voice. However, as soon as they stop or pause, the camera will raise the volume looking for some noise to amplify, and a very noticeable hiss will become evident. That is, until they start speaking again. This will happen whether you use an external mic plugged into the jack or the internal camera mic.
Now, if you're wondering WHY Canon would think this was a good idea, this concept actually is used a lot in consumer electronics. Canon did not originally anticipate how these would be used, and AGC is in fact the way most cell phone and cheap camcorders record audio with video. It is assumed that automatically making sure whatever you want to record is loud enough to hear is more important than quality of the audio recording. The problem is, Canon didn't have the foresight to give us the ability to turn it off!
Trying to clean up background noise from audio that keeps changing its volume is a nightmare.
"So what do people do about recording audio?"
Most people immediately dismissed DSLR audio as unusable, and resorted to using external recorders like the
Zoom H4N
for sound, which they would then sync up in post production.
Ironically, this is actually how Hollywood shoots, since film only records pictures
(Ever wonder what the Clapper is used for on film shoots? Its to sync up the film with the proper recorded audio track).
So, people coming from shooting film found this workflow normal.
However those of us coming from camcorders and other DV prosumer equipment found the extra step of syncing external audio kind of a nuisance.
"Are there any ways to get around AGC that don't involve having to record audio externally on a seperate device?"
Thankfully, yes.
There are two really interesting tricks out there to get around AGC.
The first is a physical hack in which you splice an audio cable so that the left and right channels go to two different sources. On one side, you connect your microphone. On the other side, you connect an mp3 player or some other device pre-loaded with a loud continuous noise.
When you hit play on the music player, the camera hears the noise and adjusts the audio level down since AGC works on the volume of both sides simultaneously. And it stays that way as long as the sound keeps playing. Meanwhile, the other channel is clean and empty, free of pesky volume adjustments, and you can now record your audio right in. Since most external microphones are monaural anyway, you only need that one channel. Then, in your NLE of choice, just delete the noisy channel, leaving you with only the good audio, already in sync with your video.
For a more visual explanation of this hack and how it works, take a look at Dave Dugdale's blog here:
http://www.learningdslrvideo.com/t2i...rode-videomic/
He also mentions that there are some pre-made cables to do this if you're not into DIY splicing.
The second way around AGC is the venerable
Magic Lantern Hack.
If you haven't heard of Magic Lantern, I suggest you google it, or at least look at the thread here:
http://www.dvxuser.com/V6/showthread...0D-in-progress
!
Update: New Magic Lantern sticky thread- http://www.dvxuser.com/V6/showthread...-Firmware-Hack
This is actually the result of some brilliant minds who managed to reverse engineer a lot of the code from Canon's developers, creating a firmware of their own that can boot off an SD card. Magic Lantern is still a work in progress, however the features that it offers already are worth having if you own a supported camera (currently only available on the 5D and the T2i- Sorry 7D owners, Canon seems to have made that one harder to hack). Features like live histograms, zebra overlays, focus peaking, custom ISO and manual kelvin values, etc... I just can't sing enough praises for Magic Lantern. Of course, one of the first features of the hack was to disable AGC, and give full manual control of all gain levels to the user.
Because you're not pushing the audio volume down like the previously mentioned physical wire hack, you can actually get much cleaner sounding audio that is more removed from the sound floor this way.
"So, if we disable AGC, we should be good, right?"
No, not exactly. There's still the weak pre-amp to worry about.
I'm not an audio engineer, but the way I understand it is that the amp on the Canon DSLRs aren't strong enough to offer a good range of volume. This means the hiss and noise floor is higher and closer to the maximum volume level than your standard professional sound recorder (which has a wider range between the max and the lowest volume before noise/hiss). With our cameras, if your mic's volume is too low, you will get a lot of hiss and noise. Turn it too high, your audio gets blown out.
"So is it impossible to get good sound out of the camera at all?"
Some folks will tell you that,
but I disagree
. If you use a powered microphone (as in, one that has its own preamp so you are essentially feeding the camera a "hot" line) you can get perfectly usable audio for something in which the volume remains around the same level, like a documentary style spoken interview. Since most of my work is interview/documentary style shoots, I already had a Sennheiser wireless lav mic (G2) which happens to have some gain control on the receiver.
By adjusting the gain up on the receiver and turning it down in the camera (using Magic Lantern on my t2i), I have managed to get some pretty good sounding audio directly into the camera for my purposes.
Here's an example of me rambling on about audio like an idiot, using the wireless lav and mic directly into the camera: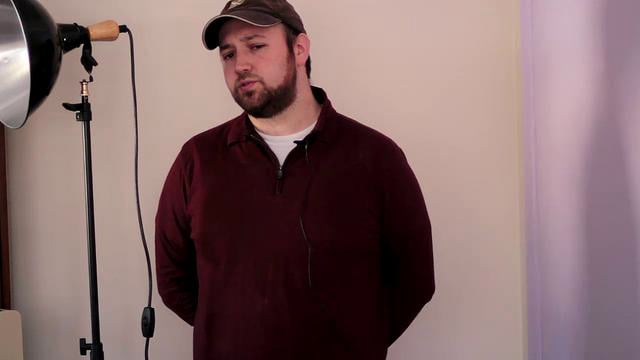 Now, this works for me and what I use the camera for, however for telling a narrative film, I don't recommend doing it this way. For that kind of story telling, you want the wide dynamic range of sound offered by a dedicated recorder (Zoom H4N, etc) and then sync it up in post.
The truth is, for that type of story telling, generally you are operating with more than one camera anyway, and perhaps even with more than one microphone... so syncing audio in post is a must no matter how you slice it.
"What about the 60D and t3i? They advertise manual audio?"
Yes, the 60D and T3i finally allow you to turn off the AGC without a hack (although I'd still recommend Magic Lantern for other things as soon they are ported to the new cameras). But you are still stuck with the weak camera preamp, which means you should really use a powered mic if you want to separate your sound from the noise floor.
-----------------------
So in conclusion, what are recommended ways to get good in-camera audio?
So now that we've concluded that there are times the in-camera audio would be perfectly acceptable, here are my recommended most-efficient ways of doing it:
-For documentary style, I recommend the Senheisser wireless mic as demonstrated above, with the settings detailed in the video. You can attach either a lav or a handheld mic to it.

-For a shotgun mic, I recommend the Rode VideoMic PRO (not the regular one), as the PRO version has a significant +20db amp built in for exactly this sort of use. This can be used directly into the camera without anything else needed.
If running Magic Lantern, turn all gains to 0 and set the mic to +20. If very far away from the mic, you can try raising the analog gain in camera a bit, but you then run the risk of overblown audio if any loud noises occur.

-For interview hand-held mic style, I recommend a "plug on" transmitter used in tandem with the Senheisser (as Chad demonstrates for us in this post http://www.dvxuser.com/V6/showthread...=1#post2298018 )
For more information, check out the audio section of the forum here:
http://www.dvxuser.com/V6/forumdisplay.php?29-Audio